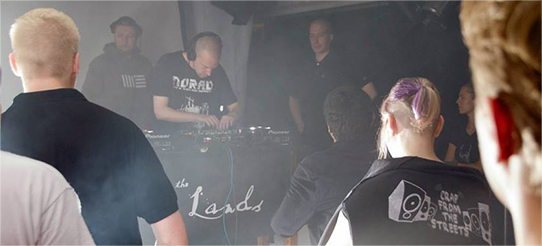 Members: Casper Cardella / Dennis Cardella
Style: Darkcore, Industrial Hardcore, Doomcore

Sound Abuse is a combination of two brothers with an interest in the Hardcore scene. One of their first productions was a noisy hardcore track called 'Sound Abuse'... Although this track was never released they really liked this name so they kept it for all their next work.
In 2003 the first three official Sound Abuse tracks where released on the CD 'Hellraiser -Protect your soul'. This launched their career and was the first of many other CD compilations. In 2010 their solo EP 'Serious Issues' was released on DNA 42. It contained tracks like 'Astonished', 'Negative thoughts' and 'Deranged Mind'.
This was soon followed by their second EP called 'Inner Strength' on the label 'Dark. Descent.' In this period they also remixed tracks from artists like Zanthrax & NegativeA.
The duo performed on several highly respected international and underground parties. Their DJ sets are well known for their experimental and dark industrial sounds.
Track 2 Mini-mix by Sound Abuse
1. Electronic Mind Expansion - Problem Solver
(ITDL version by Sound Abuse)
2. Sound Abuse - Inner Strength (short edit)
3. Sound Abuse - Bitter Memories
4. Sound Abuse - Mesmerized
5. Sound Abuse - Kissing the Horizon
For older releases check Discogs.